Radiation Dose Monitor (RDM) is a DACS (Dose Archiving and Communication System) software solution that collects, controls and analyzes radiation doses delivered to patients during medical imaging examinations. Compatible with all brands of medical imaging equipment, RDM is designed for all medical professionals responsible for the dose cycle: radiologists, technicians, heads of department, medical physicists etc.
RDM interfaces with both hospital and radiology information systems and fits seamlessly into the imaging network. And thanks to its Web-based architecture, it can be acceced from anywhere. At the very core of your department, RDM is an essential tool for optimizing radiation dose and improving clinical practices.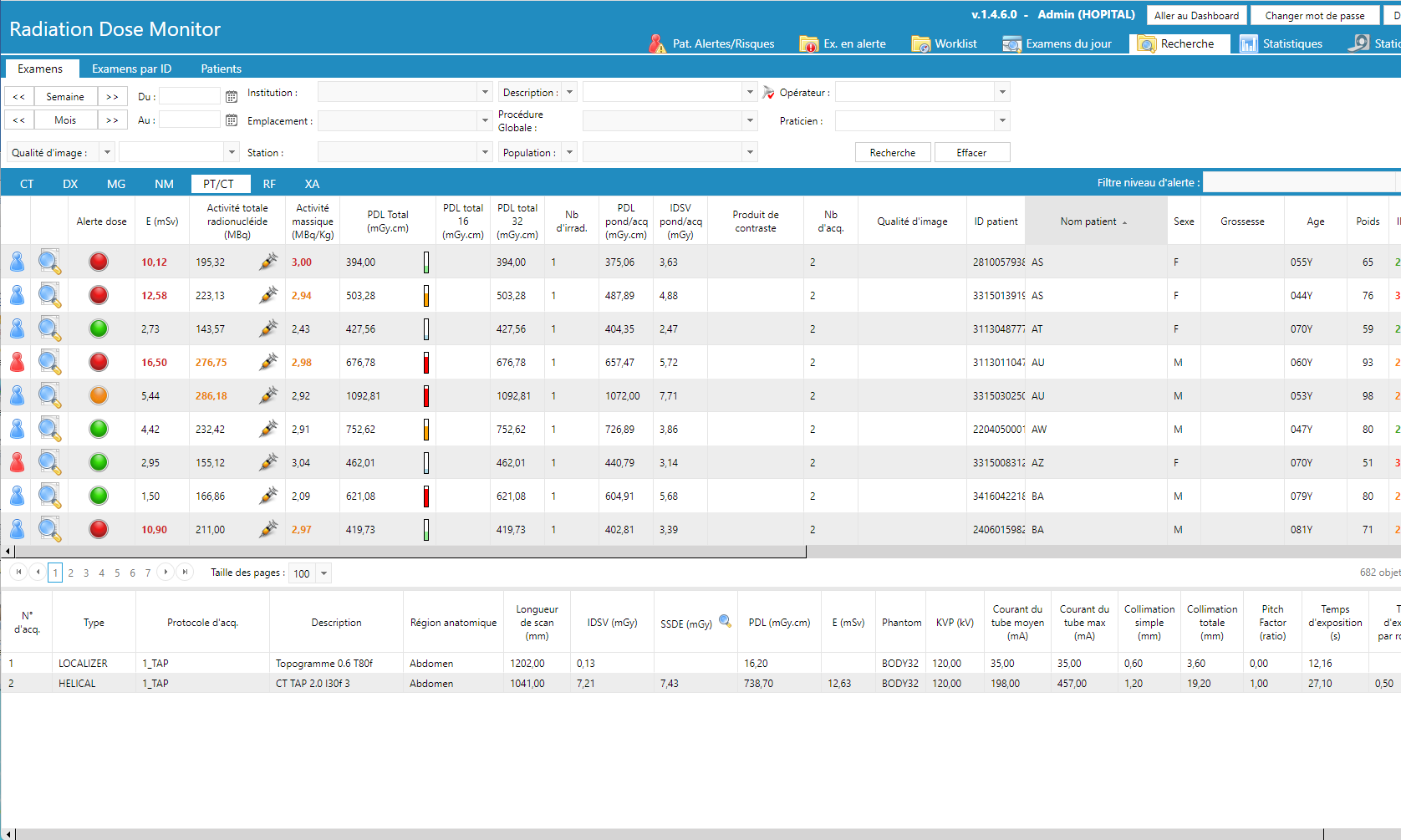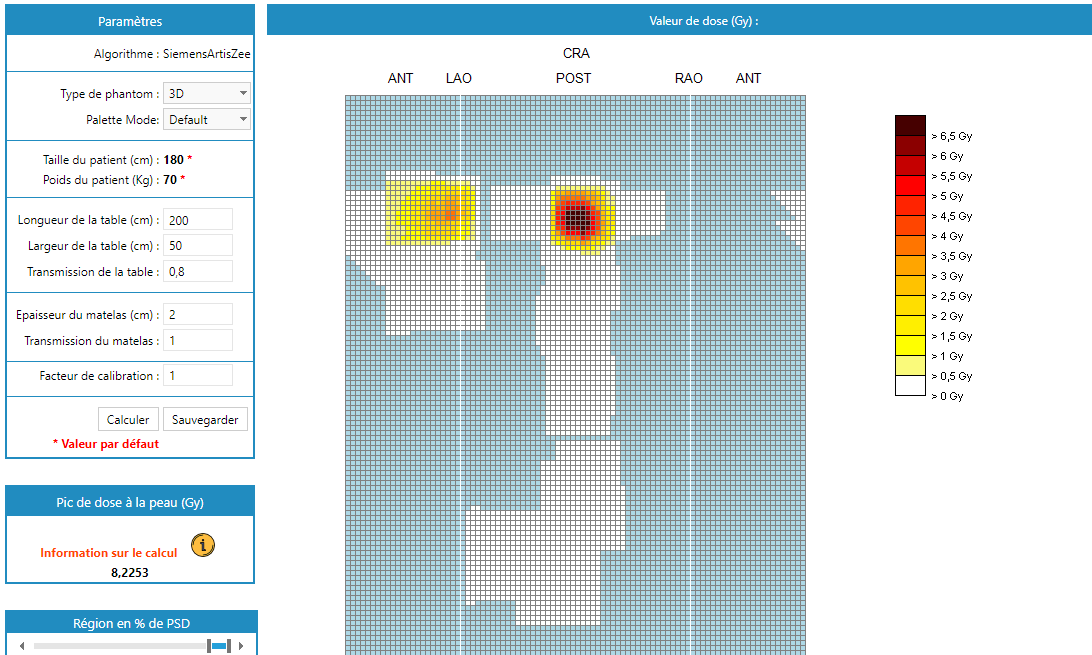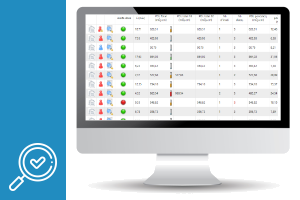 CONTROL
RDM displays all information relating to patients, examinations and acquisitions in real-time and provides instant access to your patient's dose history.
The solution contains:
– An advanced alert system, based on national and local Diagnostic Reference Levels.
– A dedicated screen for tracking alerts and finding their causes.
– Functionality to specifically manage high-risk patients (pregnant women, radiation dermatitis, etc.).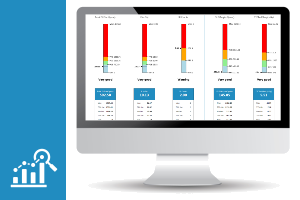 ANALYZE
RDM provides advanced statistical analysis of dose data:
– Tracks the course of doses delivered to patients over time.
– Displays the distribution of dose values according to the type of examination to identify examinations deviating from the reference values.
– Identifies all procedures and protocols that reveal anomalies and could be improved.
– Assesses the level of compliance of your practices.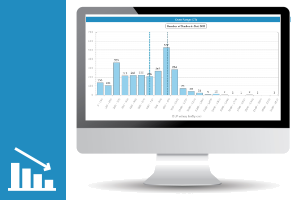 OPTIMIZE
RDM helps you optimize radiation dose and improve clinical practices:
– Identify and optimize your high-dose procedures, finding the right balance between image quality and dose.
– Real-time alert system, according to your Diagnostic Reference Levels, enables you to identify and correct protocols exceeding your DRL.
– Improve practices and avoid unnecessary dose from Day 1.
_
_
Dashboard Analytics
Dashboard Analytics is a module of RDM that provides a range of analytical and visualization tools for analyzing and interpreting data on radiation dose and patient exposures.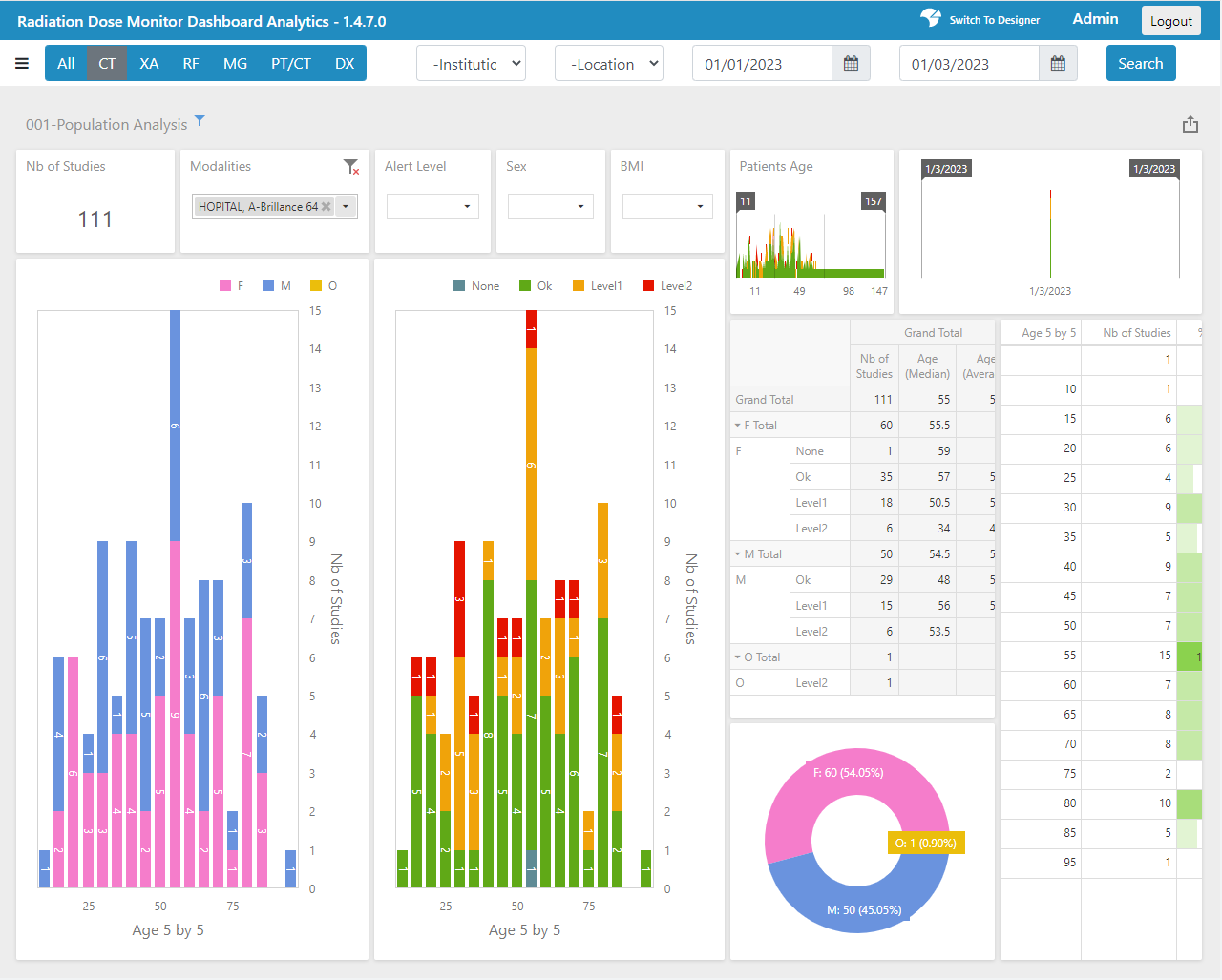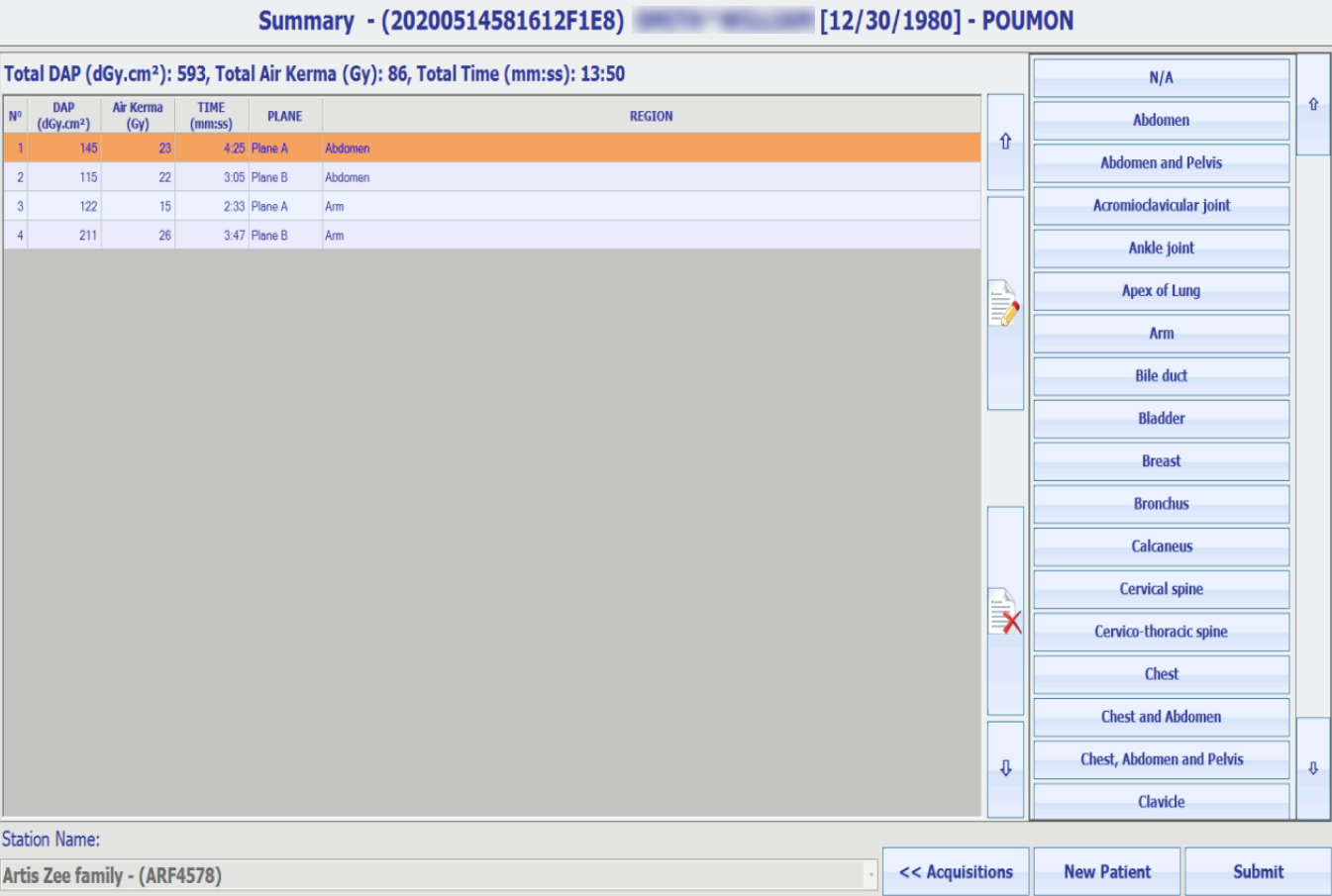 RDM Modality
RDM Modality is a module of RDM that is specifically designed to support non-DICOM modalities and devices that have an external ionization chamber. Dose values can be downloaded from the external ionization (KermaX, PTW, Vacutec, etc) or entered manually.
The resulting Dose report can be linked to the correct patient and examination using the DICOM Worklist.
Skin Map and Peak skin dose calculation
For interventional radiology devices, it is possible to estimate the maximum skin dose (or PSD) delivered during an interventional procedure.
The information is represented in an interactive "Skin Dose Map", which allows users to visualize and analyze the dose received by the patient's skin. This is an ideal tool for optimizing interventional procedures and ensuring patient safety.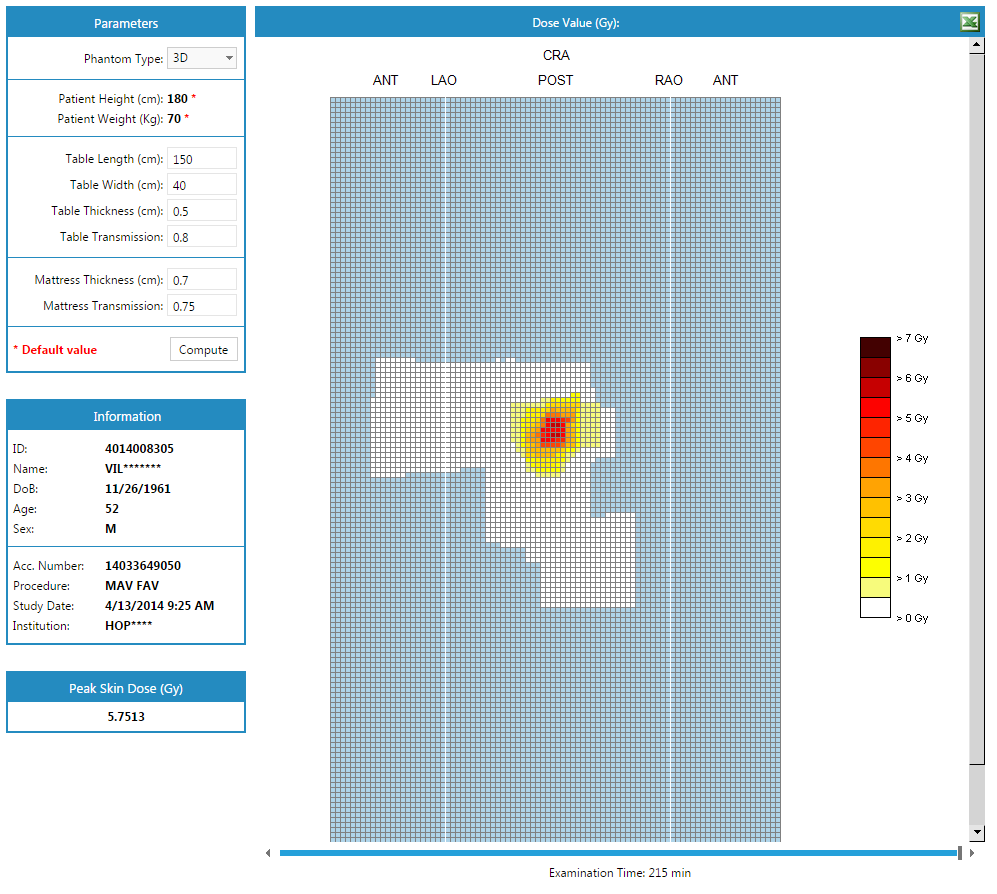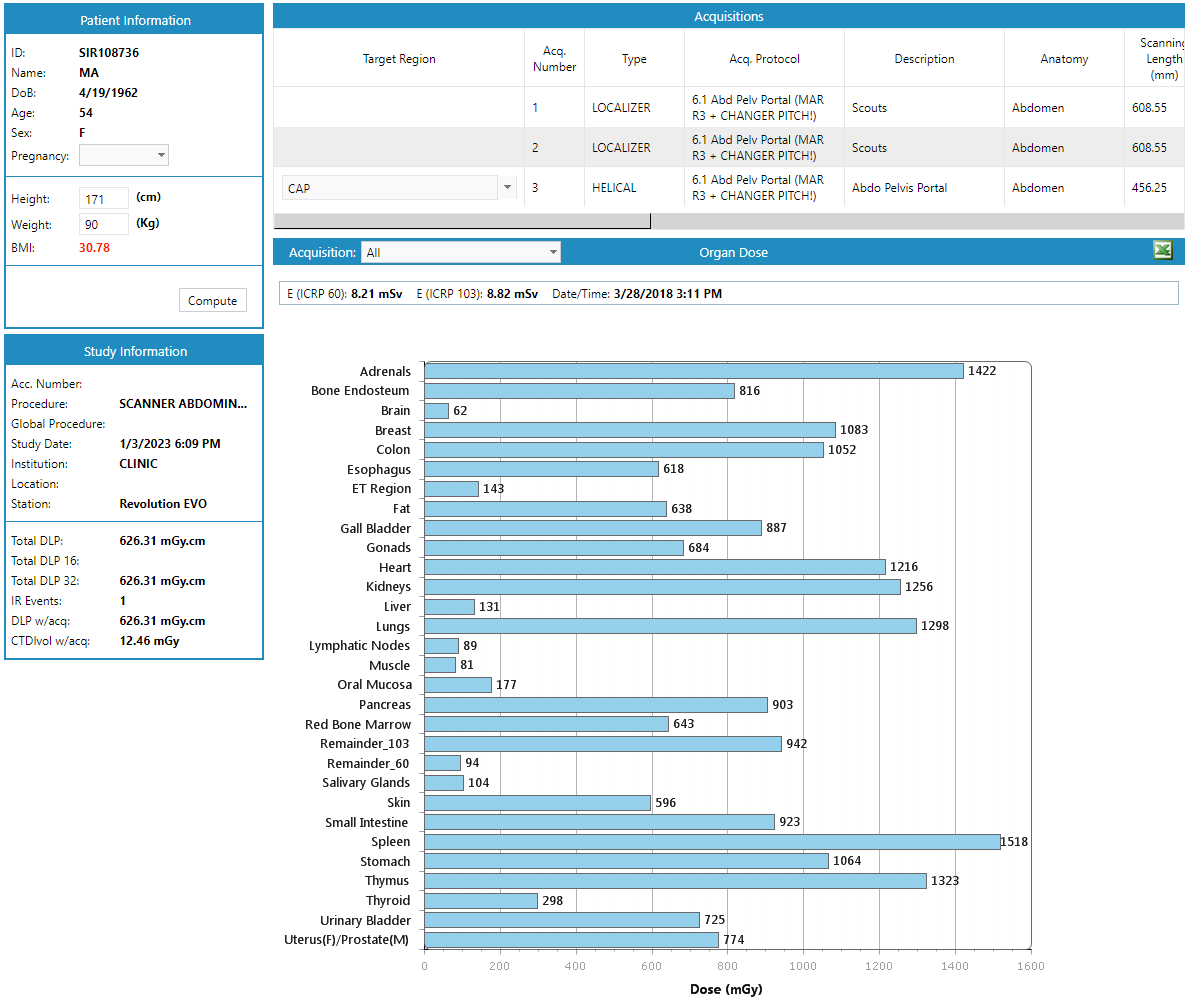 Organ dose calculation
RDM allows visualization of the radiation exposure of organs during a CT exam or Nuclear medicine procedure. This can be helpful for evaluating the potential health risks associated with radiation exposure and for optimizing treatment planning by minimizing the dose received by critical organs.
SSDE calculation
RDM calculates the size specific dose estimate (SSDE) for CT exams. SSDE is a measure of the absorbed radiation dose to specific size ranges of tissues as defined by the AAPM (American Association of Physicists in Medicine).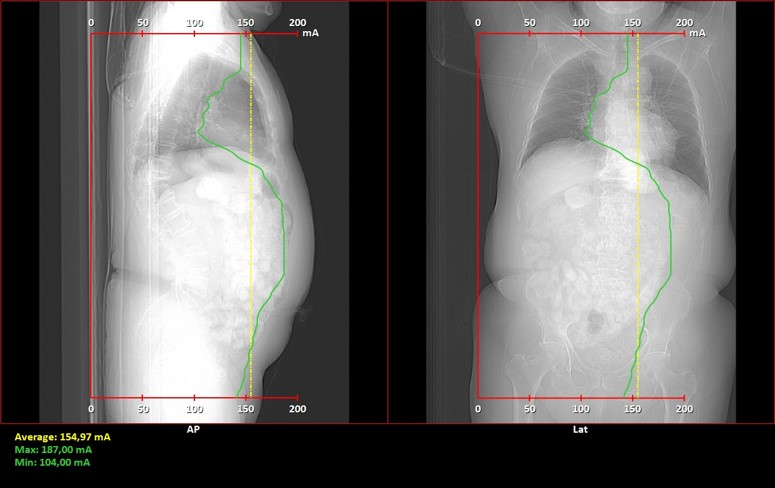 mA Analysis
The visualization of the modulation of the x-ray tube current in RDM allows users to track and monitor the intensity of the x-ray beam during a computed tomography (CT) procedure.
Are you interested in this product?
In 2012, we partnered with Medsquare to launch RDM. Since then, RDM has been implemented in several countries globally. If you would like to learn more about RDM, you can click on the Medsquare logo below. RDM is also now available for the US market, for further information please visit the website of our partner SST Group Inc. below.